Would you like to have a few graphics and a sound in your sent emails ? It is very easy to do if you're using Internet Explorer's Outlook Express 5+.
The first thing you need to do is create an html file with
your graphics, text and sound (whatever you would like
to display for your email's signature).
Note: I found that you can link to graphics and sounds that have been uploaded to the internet. Then use the full URL in the html file to link to the graphics and sounds for your html signature file. But you can also link to graphics and sounds directly off your C Drive.
Then save this html file in a folder on your C Drive.
I have created this html file for my signature, Click Here
The next step is installing this html file as your Outlook Express Signature. From your email system click on "Tools" in the navagation bar at the top. Then scroll down and click on "Options", See Below.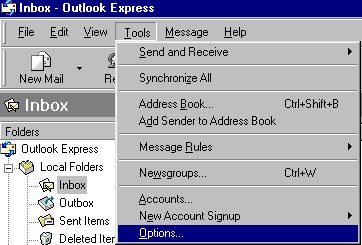 This will bring up the "Options" box, then select the "Signatures" tab.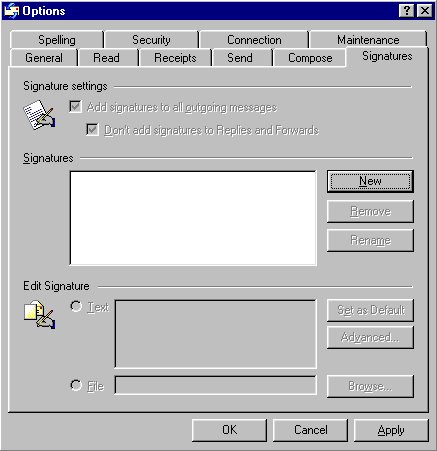 The next step is to click on "New".
Then select the "File" button.
Now "Browse" your computer's files and select your "Signature Html File" that you created and saved in a folder on your C Drive. (make sure you browse for html files, not .txt files)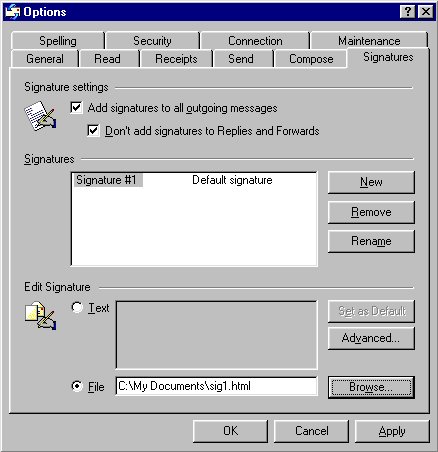 Choose "Add Signature To All Out Going Messages". (this is an option you may or may not want to do)
Now click on "Apply", then "OK".....You're Done !